Year 10 College Taster Days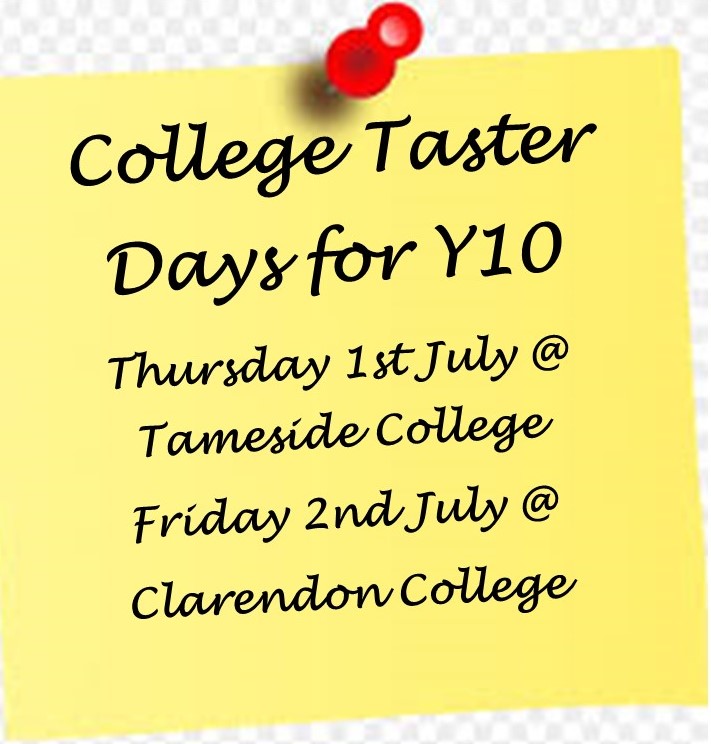 20 May 2021
As part of the Careers Education Advice Information and Guidance at Alder we are pleased to be able to offer the opportunity for all students in year 10 to attend two taster days at local colleges in July.
Tameside College: Thursday 1st July 2021
Clarendon College: Friday 2nd July 2021
The itinerary for each day is as follows:
Tameside College
Thursday 1st July
Arrival: 9:15am
Session 1: 9:30am-11:30am
Departure: 11:30am
Clarendon College
Friday 2nd July
Arrival: 9:00am
Session 1: 09:15am - 10:15am
Session 2: 10:20am - 11:20am
Departure: 11:20am

In the afternoon students will be set a home learning activity via Microsoft Teams. Full attendance and participation are compulsory and usual school attendance and behaviour policies should be followed.
To allow students to fully experience what it would be like to attend these Colleges they must travel independently to and from the venues. Transport will not be provided. We recommend that they travel with friends. Information about how to do this via public transport will be provided in advance of the date.
Students will not be required to wear school uniform but must be dressed appropriately for the workshops, ie, best clothes are not advisable for certain workshops, e.g., trainers for sports, not best clothes for construction/engineering. Students will have the opportunity to choose different taster sessions to take part in in advance of the day.
If parents/carers wish to discuss either taster session further please do not hesitate to contact school to speak to Mr Eaton.